---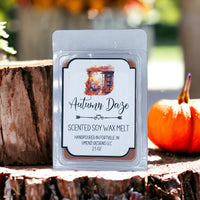 Sale
Autumn Daze Wax Melts
Umenzi Designs
Sale price $4.00 Regular price $4.00
Step into a world of cozy comfort with our Autumn Daze wax melt. This captivating fragrance is your ideal companion for both Autumn and Winter, evoking a crisp, invigorating freshness that will awaken your senses. Immerse yourself in the delightful dance of mint, elegantly woven with the subtle embrace of green apples and peaches. As the fragrance unfolds, it settles into a comforting base of musk and moss, enveloping your space in a warm and inviting embrace. Embrace the essence of the season with Autumn Daze and let the enchanting scents of nature transform your surroundings into a haven of tranquility and elegance.
Choose from our generous 2.5oz size for an immersive, long-lasting scent experience, or opt for the more convenient 1oz sample size to explore a variety of captivating fragrances. Each wax melt is a carefully crafted masterpiece, ready to infuse your space with its own distinctive charm.
We use all natural soy wax produced here in the USA from soy beans grown by our own American farmers. We use only the high quality essential and fragrance oils that never contain phthalates.

Safety First:
** Before you embark on your aromatic journey, please take note of some important safety precautions:

Never leave unattended-Ensure you extinguish the flame and remove the wax melt from the heat source when not in use.



Use approved melters:** Only use wax melters or warmers designed for this purpose, and follow the manufacturer's instructions carefully.

Keep out of reach-Wax melts can get hot, so make sure to keep them out of the reach of children and pets.

Use in well-ventilated areas:** To prevent over-saturation of scents, use in well-ventilated spaces.

Avoid touching melted wax-Hot wax can cause burns, so exercise caution when handling.
Dispose of properly-Once the fragrance has dissipated, allow the wax to cool and solidify before removing it from the melter. Dispose of it according to your local regulations.

Instructions for Use:

Each Clamshell contains 6 1" soy wax cubes.

Break off 1 or 2 cubes and add to the top of an electric or tea-light tart burner to melt. The Wax can be re-melted until it is no longer fragrant.




You can use difference fragrances together to create an entirely new aroma!